Details
An extremely high quality and versatile Wheel and Tyre Trolley featuring adjustable internal beam widths of 400mm, 475mm and 550mm to cater for various diameter wheels and tyres.
Available in either 1300mm, 1500mm or 1600mm demountable tyre friendly round cross beam lengths.

Two fixed and two fully-rotating locking & braking aluminium castor wheels are supplied fitted to the trolley to give strength, stability and easy manoeuvrability around the pits, paddock and workshop.

Manufactured from high quality 304 grade stainless steel with a superb hand-polished mirror finish.

Supplied with an A-frame with M12 rod end for connecting to a paddock vehicle (Maximum towing speed of 5mph/8kph).





Dimensional Drawing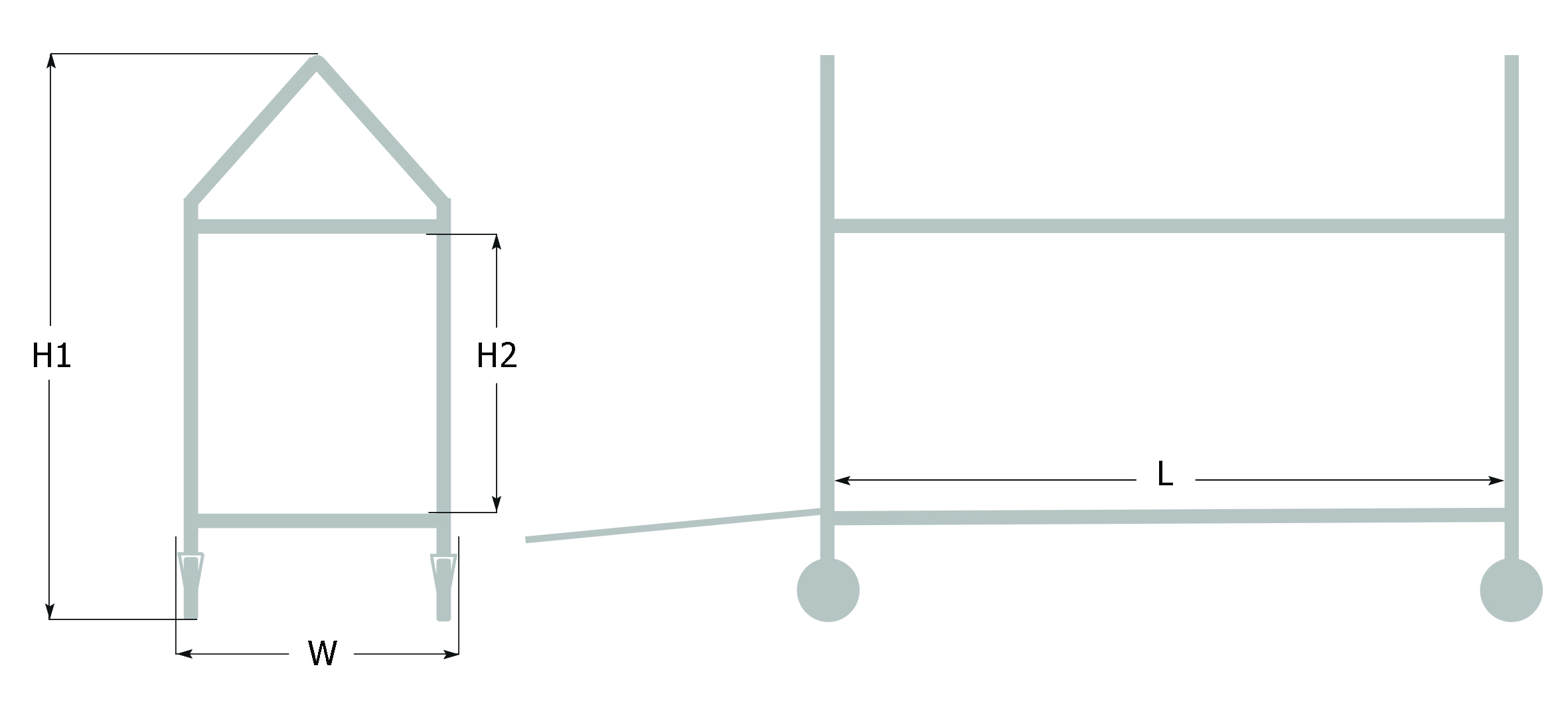 BGR103S
H1 - 1580mm - 62.20"
H2 - 721mm - 28.38"
W - 725mm - 28.54"
L - 1300mm - 51.18"

BGR104S
H1 - 1580mm - 62.20"
H2 - 721mm - 28.38"
W - 725mm - 28.54"
L - 1500mm - 59.05"

BGR115S
H1 - 1580mm - 62.20"
H2 - 721mm - 28.38"
W - 725mm - 28.54"
L - 1600mm - 62.99"
Technical Specification
Technical Specification
Part Number
BGR103S / BGR104S / BGR115S
Style
Racing
Material
Stainless Steel
Finish
Hand Polished
Height
(H1) 1580mm - 62.20"
Width
(W) 725mm - 28.54"
Internal Length
(L) 1300mm - 51.18" / 1500mm - 59.05" / 1600mm - 62.99"
Internal Widths
400mm - 15.74" / 475mm - 18.70" / 550mm - 21.65"
Internal Height
(Between Beams) (H2) 721mm - 28.38"
Weight
52kg - 114lbs
Loading Capacity
300kg (150kg per level) / 660lbs (330lbs per level)
Wheel Diameter
160mm - 6.29"
Wheel Material
Aluminium Centre
Tyre Material
Rubber
Delivery & Returns
Free UK Mainland Shipping Available on this product. Please note that exclusions apply.
For information regarding delivery and returns, please visit our Delivery & Returns page in the footer of our website.
Warranty
This product is guaranteed against faulty manufacture for a period of 12 months from the date of purchase.

This guarantee is invalid if the product is found to have been abused or tampered with in any way, or not used for the purpose for which it was intended.

Faulty goods should be returned to their place of purchase, no product can be returned to us without prior permission.

This guarantee does not affect your statutory rights.
Reviews (3)
---
You May Be Interested In...